According to CNBC, ever-increasing rent prices across the United States have affected almost everyone, including the food business.
Moreover, it is also speculated that it will increase more during the coming years. As a result, many food business start-ups try hard to survive while others go bankrupt.
Roach coach is a jargon used for four or six-wheeled food trucks or catering kitchens designed to prepare and sell food.
Unlike typical restaurants, these trucks usually specialize in a few types of food (usually fast food) and are affordable, quick, and value to money.
These food trucks or roach coaches are usually parked at the sides of roads around public sidewalks to attract customers.
In short, a roach coach is a food truck that sells you quick and nice easy food.
The increase in rent prices has forced many food business owners to opt for a roach coach or food truck.
This has the advantage of fewer govt fees, mobility, accessibility, and an excellent alternative to typical static food outlets. This blog is dedicated to discussing roach coach food trucks in detail.
Tired of cockroaches? Invest in only these products and follow the guide to eliminate roaches!

Use these products, and you will be roach free in less than a week.

1. Advion Cockroach Gel Bait (Review)
2. Gentrol IGR Point Source (Review)

Other Products to try:

1. Combat Roach Traps (Easy than gel baits)
2. Hot Shot Foggers (To kill in masses – 95%)
3. Pet Safe Killers (Uses Essential Oils)
4. Ortho Defence Outdoor Roach Killer (Prevent Roaches)
Roach Coach; Explained in Detail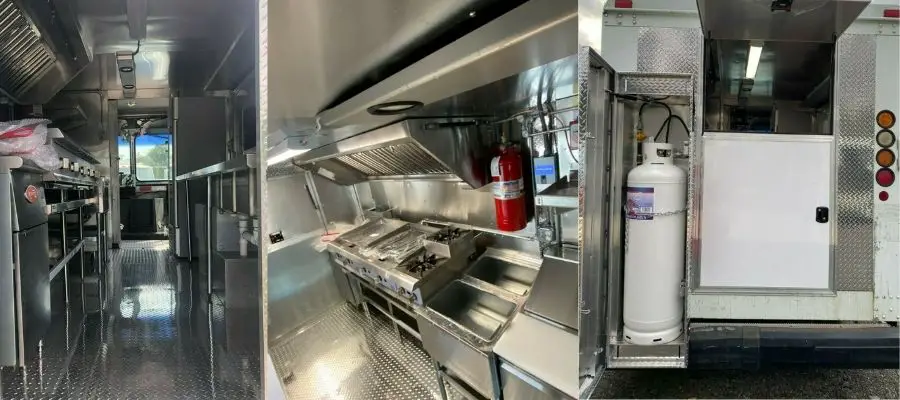 Roach coach is a slang term for food trucks because the small available space is usually not reasonably sanitary.
Some people think that these small food trucks are a hot spot of cockroaches and therefore refer to them as roach coach food trucks.
However, this is not always the case. Most roach coaches are immaculate and hygienic and are certified and inspected by governmental agencies regularly.
Offenders are usually heavily fined if they do not meet the criteria, even with license cancelation.
Roach coach is specifically designed to keep food preparation in mind, though some only sell pre-packed food.
It is usually a four-wheeled truck powered by a powerful engine and has a varying length that depends on the demand of the individual.
The roach coach comes with a lot of accessories, including,
Water supply and refrigirators
Power out lets or battries
Induction or Gas Ovens
Cabinets, Hot plates, Microwave ovens
Sinks and windows
Free space to easily walk and small sitting area for the crew
The price of a roach coach food truck varies greatly and depends on the model and type of food truck, its size, individual preferences, operation area (Linked with licensing fee), and many other aspects.
On average, a four-wheeled used food truck with 300 meals preparation capacity per day and equipped with all necessities will cost between 51000 to 55000 USD depending upon the state, exclusive of licensing fees.
Are there Cockroaches in Chocolate? Read this interesting article to know more about it!
Pros and Cons of the roach coach food truck
Roach coach is a restaurant on wheels with authentic food. Many benefits have compelled many people, especially immigrants with low-income sources, to invest in food trucks.
Not only is this introducing the US to new food but also helping the economy.
Owning a Roach coach food truck has got both its pros and cons.
Pros of roach coach food truck
Roach coach food truck is an excellent investment with very low risks of failure.
You can move your food truck almost anywhere and target a number of places from the construction site to parks.
Low running cost with less upfront investment
No compulsion to work; you can take unlimited holidays
Easy to operate and requires very low to no staff at all
Can use it for a quick nice camping
Good market resale value
Cons of roach coach food truck
Less working space inside the truck
The public has a cheap food perception in mind (Compared to fancy restaurants)
High market competition
Needs a lot of periodic maintenance
you must abide by local laws
Have you heard about Blaberus Giganteus; The Mexican Cockroach? Read this interesting article to know more.
Is it safe to eat food from Roach coach food truck?
Before starting a food truck business, one must have several permits and certifications, including a food handler's permit or a food manager certificate.
This certificate or permit is granted to the truck owner that has completed proper food handling training and food safety courses.
Moreover, the food authority regularly anonymously inspects food trucks' condition and hygiene status.
Therefore, it is safe to eat food from roach coach food trucks until they hold a proper license. However, one must inspect the interior of a food truck for coach roach and other stuff himself before eating.
Sometimes, especially in suburban areas, the roach coaches do not maintain strict hygienic measures, and therefore, one must be extremely cautious about food poisoning.
Additional Read!
Do Cockroaches Play Dead?