Pulling a prank using a natural-looking replica of cockroaches, scorpions, or a snake is a lot of fun. However, remote control cockroaches must top your list if you plan to do the same with your friends or family. This is because humans, especially ladies, are terrified of cockroaches, and seeing them screaming and running around is no less than a moment of laughter.
The best remote control cockroach is the one that looks identical to the natural cockroach, is small in size, move around quickly, and is durable. My personal experience with Robo Alive remote control cockroach has been excellent because it looks very realistic, moves around like a cockroach, and has a very decent size.
The other best remote control cockroach to buy online is Tipmant RC Cockroach, followed by Giveme5 RC Cockroach Toy and Greatstar Infrared Remote Control Cockroach.
Amazon is flooded with remote control cockroaches, with sellers competing among themselves and offering very low prices, but many of them have a lot of quality issues. For example, some people report non-functioning remote control, while others complain about stuck wheels.
Therefore before you buy an RC cockroach, I suggest you go through this complete blog which will help you select the best product out there.
Before you read further, just a quick question. Tired of cockroaches and looking for a permanent solution?

Stop wasting your time, invest in these products and follow this guide: How to get rid of roaches? You will be roach-free in 10-20 days.

1. Max Force Glue Traps
2. Advion Gel Baits
3. Harris Powder Bait
4. Gentrol Insect Growth Regulator
5. Loctite Foam Sealent

Optional Items
1. Gel Bait Professional Gun
2. Torch
3. Powder Bait Puffer
4. Insecticide Spray to kill a reveled colony in a single shot
Top 4 best remote control cockroach
Remote control cockroach is not only an excellent prank toy for your family but will also make your cat go crazy. I have personally used remote control cockroaches and judged them on,
Realistic looks with natural cockroach including size
Mobility
Price
long term durability
Here are the top 5 best remote control cockroaches to buy online,
1. Robo Alive Remote Control Cockroach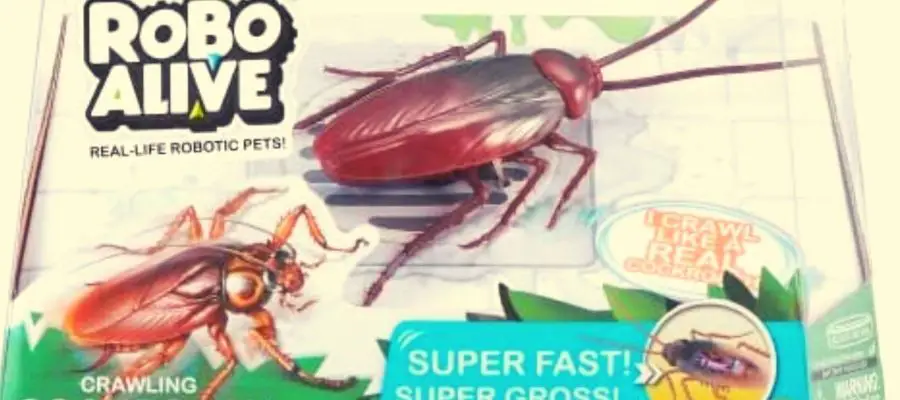 This product is my best pick and is available on Amazon for 20 USD. The good thing about this product is its durability, realistic looks, and fast movements like cockroaches.
This toy, for sure, is the best prank tool for your family. However, the one downside with this product is the loud sound it produces when moving, which might make it obvious when it's too quiet inside the house.
2.Tipmant RC Cockroach
This is another best remote control cockroach to buy online. It also looks very realistic with swift movements and comes with a plastic cockroach poop making it more disgusting. You can buy it on Amazon for 19 USD.
Two downsides of Tipamant RC Cockroach are its large size and poor battery timing that only last 10 minutes. However, the product is durable and keeps working for months before its motor gears are worn out.
3. Giveme5 RC Cockroach Toy
Giveme5 RC cockroach is an excellent choice for kids because it's easy to handle and carry around because of its massive size. Moreover, it does not have a choking hazard like other small cockroaches (Batteries are covered safely).
This product also has different radio frequency settings that help it maneuver easily. However, it's not too realistic to use it to pull a prank on some elder. Therefore it might not be fit to your requirements.
This product is available on Amazon for 18 USD.
4. Greatstar Infrared Remote Control Cockroach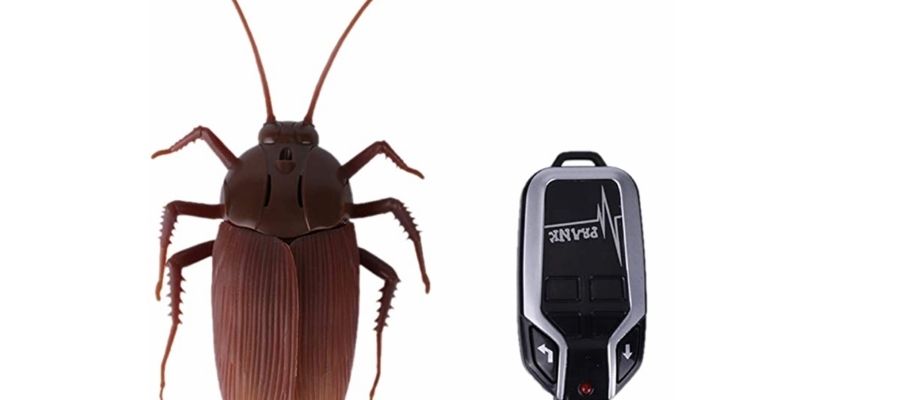 Unlike other RC cockroaches, this product does not look too realistic but has an extra added feature with moving wings, making it more gruesome. Unfortunately, this product also has quality issues and is more expensive than others.
However, the one thing that compelled me to add to the top 4 cockroaches is only its ability to move wings which made my son laugh hard.
This product is available on Amazon for 21 USD.
The world's most enormous cockroach measures 4.5 inches in length with an estimated wingspan of 8.6 Inches.
Prank Ideas using remote control roach
If you have bought remote control roach and are now planning to pull a prank on your friend or family, here are a few tips and ideas to make it more memorable and fun.
However, do not attempt it on older adults and people with heart problems or epilepsy. Moreover, always pull pranks within limits and keep it fun.
Prank Idea 1: Putting RC cockroach in Refrigirator
The refrigerator is an excellent place to pull a prank on friends or family members because we regularly open refrigerator weatherboard or are hungry.
All you need to do is place the cockroach inside the refrigerator on a smooth surface and ask a family member or friend to bring you water or something out of the fridge.
Once they open the fridge, all you have to do is move the cockroach by pressing the button on the remote control. Next, enjoy the screams and a lot of laughter.
Prank Idea 2: Placing RC cocroach under the furniture
This is another excellent place to pull pranks on your guests or friends. All you need to do is place the cockroach under the furniture, and once the guests or friends sit on the sofa, remotely move the cockroach to touch their feet.
Once they see cockroaches, they will most likely scream out, followed by laughter.
Prank Idea 3: Placing Cockroach Under the bed sheet
This prank is best if your partner or girlfriend is sleeping. First, you need to make sure that it's the time when they wake up. Next, place the RC roach under the bedsheet, and you sit calmly on the sofa.
Once your partner wakes up remotely, activate the cockroach, and you will scare the sh** out of them for sure.
Additional Read!