Using a roach killer might not always be safe around pets, especially naughty cats and dogs. Sometimes, pets might interfere with pest control and may accidentally poison themselves if they consume it. Therefore, using a pet-safe roach killer should be your top priority.
I have been using a lot of roach killers, from some of the best roach sprays to the best roach traps. But, unfortunately, I found that every one of these products is not safe; some of them are highly poisonous even though warned by the manufacturers.
Here are the Best Pet Safe roach killers:
Selecting the best pet-safe roach killer is extremely sensitive, and all internet content is untrustworthy and should never be trusted blindly.
Therefore, I will recommend the tried and tested products and share how effective each product is.
BUT… Is pet safe more critical, or getting rid of cockroaches is more important?
These pet-safe killers I have recommended are not the solution to your roach problems.

To do it the right way, follow this guide: How to get rid of roaches and invest in the products below. You will be roach-free in 10-20 days.

These products are not 100% Pet safe, but if used with caution and as per the instructions on the pack, these will solve your problem.

1. Max Force Glue Traps (Pet Safe)
2. Advion Gel Baits (Pet Safe if used safely)
3. Harris Powder Bait (Pet Safe if used safely)
4. Gentrol Insect Growth Regulator (Pet safe if installed in a hidden spot)
5. Loctite Foam Sealent (Pet Safe)

Optional Items
1. Gel Bait Professional Gun
2. Torch
3. Powder Bait Puffer
4. Insecticide Spray to kill a reveled colony in a single shot
List of Best Pet Safe Roach Killers
A roach or bug killer might be very safe but, at the same time, less effective than other products on the market. Therefore, it depends on you to side with which product.
Moreover, if you can carefully observe your pet or educate him to stay away from roach-killing products, using a highly effective product should not be a concern.
Keeping other stories aside, here are my top recommended best pet-safe roach killers,
Diatomaceous earth is a fine white abrasive powder readily available in the market and online. It has two grades, one is called food grade, and the other is called filtration grade.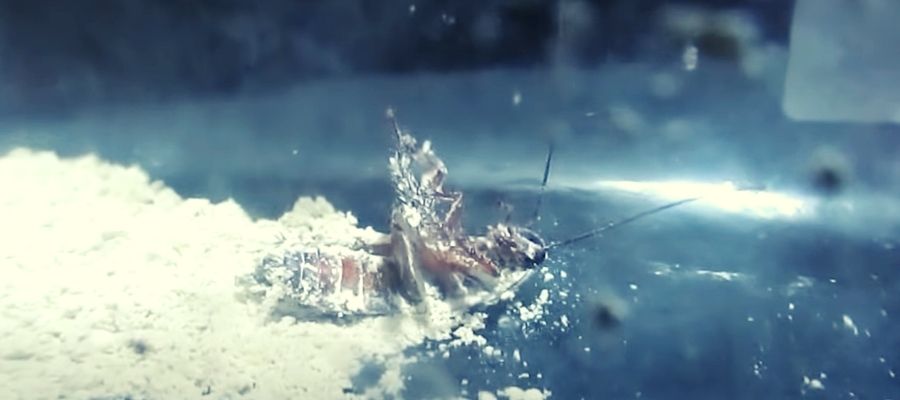 The food grade is very safe and carries no harm. You can even consume it, and it will do nothing. On the other hand, filtration-grade diatomaceous earth powder is toxic and can cause inhalational injuries (do not use it in your DIY project).
I found diatomaceous earth lethal for cockroaches, ants, bugs, spiders, and other insects. It punctures the body and the exoskeleton of insects, including roaches, and kills them within the next few days.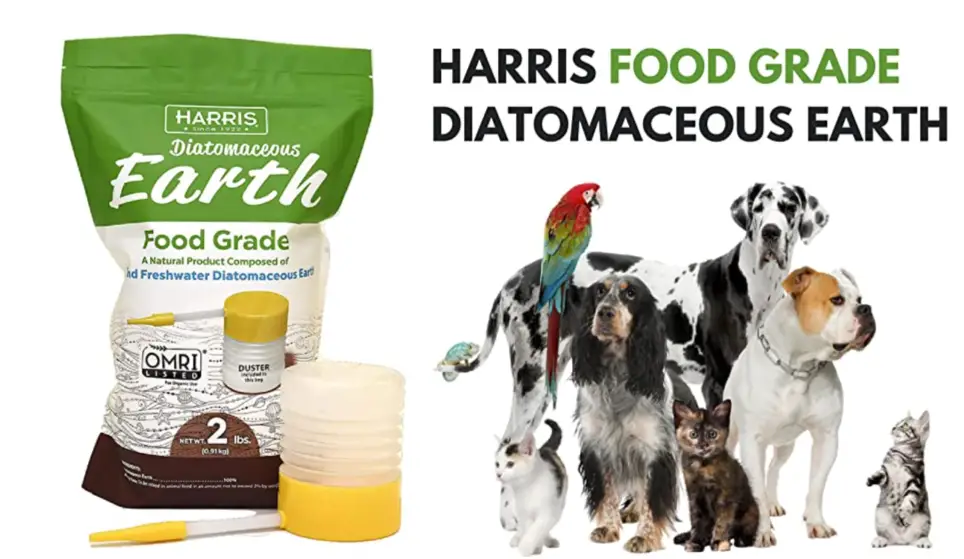 Harris diatomaceous earth can be used as a pet-safe roach killer, but it has many downsides,
I found it highly messy.
You need to change the powder once a week because it absorbs moisture, rendering it useless.
You can't use it in places with lots of moisture or active water dribbling.
It is very slow acting and often noneffective.
Therefore, no doubt! If you are looking for a highly pet-safe roach killer, then Harris Diatomaceous earth is my first suggestion. But if you are looking for moderately safe and highly effective products, keep reading the list.
| Factors | Diatomaceous earth |
| --- | --- |
| Effectiveness | 6 |
| Ease of Use | 5 |
| Safety | 8 |
| Availability | Easily Available |
| Price | More Expensive |
| Forms | Powder Only |
Harris Diatomaceous Earth Powder as pet-safe roach killer (Scores out of 10)
No doubt, Tysonir is the best roach sticky trap for bugs. Similarly, the Tysonir roach trap has proved to be one of the best pet-safe roach killers for killing roaches.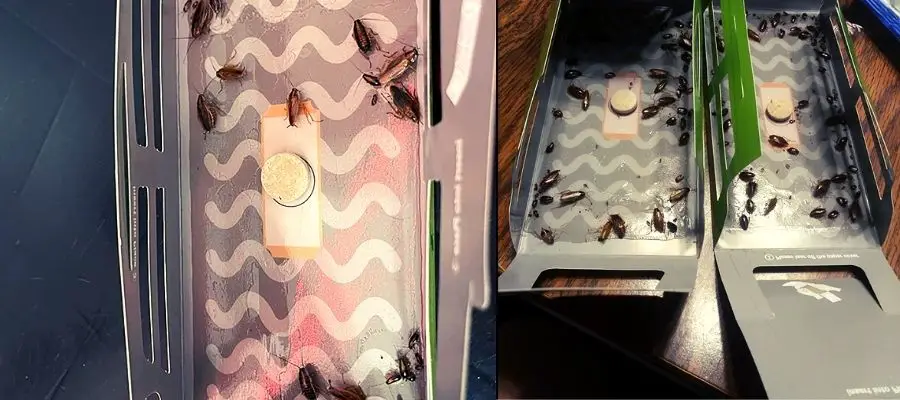 I personally like Tysonir roach trap and found it extremely safe because it only contained a tablet that smelled like corn starch or brown sugar.
Moreover, the Tysonir roach trap is made up of disposable cardboard that does not impose any threat to your pet.
One thing that I liked about the Tysonir Roach trap is that its glue stayed sticky for longer than any other roach trap. The glue stayed sticky in damp places because the lid covering didn't allow water to move in.
Therefore, if you want your pet to stay safe and, simultaneously, the product successfully removes roaches, this is for you.
| Factors | Tysonir Roach Trap |
| --- | --- |
| Effectiveness | 8 |
| Ease of Use | 7 |
| Safety | 8 |
| Availability | Easily Available |
| Price | Moderately Expensive |
| Forms | Cardboard |
Tysonir Roach Trap as pet safe roach killer (Scores out of 10)
I have written a complete article on 6 Best Cockroach Traps! Please read it to know more.
The Raid ant and roach spray is a 12 oz container, and the active ingredient is Geranoil, an essential oil.
It is the main component of, among others, citronella oil, rose oil, and palmarosa oil. The product is also environmentally friendly and safe around children.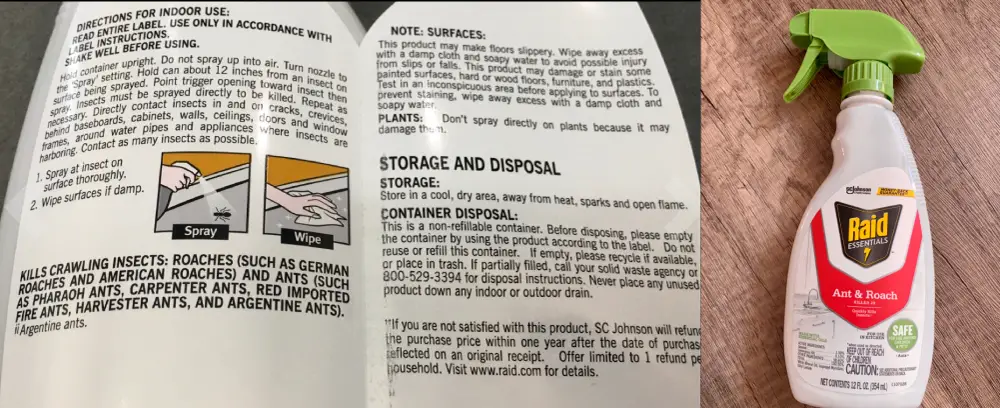 Raid ant and roach killer is highly effective at killing roaches, but you have to spray it directly on them. It won't keep killing them for months like standard insecticide sprays work.
Another issue with this spray is that it leaves stains. You will have to apply this in large quantities to be effective.
Perfect for Direct Kill
Introducing Raid Essentials Ant & Roach Killer that is safe* to use around kids and pets (*When used as directed)
Raid Essentials is made with essential oils
Deals with ants, roaches and other crawling insects
As Raid, we are proud to be America's most trusted insect control brand
Ideal for use in the kitchen
| Factors | Raid Ant and Roach Killer |
| --- | --- |
| Effectiveness | 9 |
| Ease of Use | 7 |
| Safety | 9 |
| Availability | Easily Available |
| Price | Normal |
| Cons | Product Quality Issues |
Raid Ant and Roach Killer as pet safe roach killer (Scores out of 10)
4. Wondercide Ant and Roach Aerosol Spray
Wondercide offers an attractive, safe product to use around pets and children. The aerosol spray contains a unique combination of plant oils that are lethal and repelling yet safe.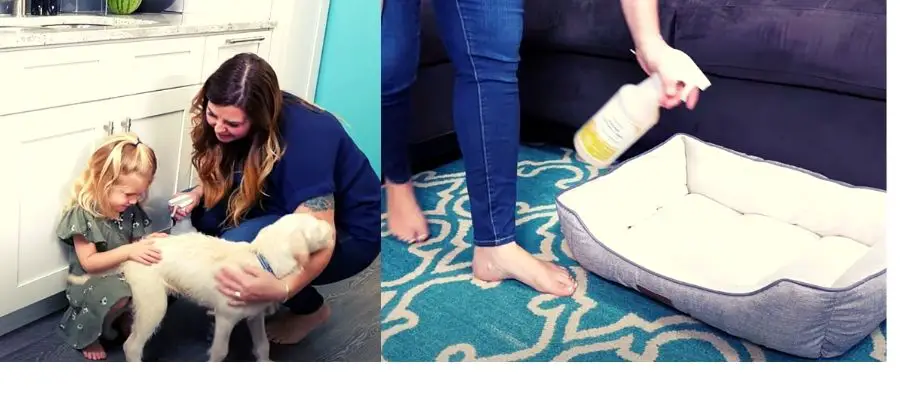 I have found Wondercide Spary to be satisfactory. When you sprayed the product in a closed room, it failed to give good results, but it effectively kills them within minutes when you apply it directly to the roaches and ants.
You will notice that if you spray a standard roach spray inside a room, your pet will start behaving strangely and may go crazy for a while.
However, spraying Wondercide spray will do nothing, and your pet will behave normally.
| Factors | Wondercide Ant and Roach Aerosol Spray |
| --- | --- |
| Effectiveness | 7 |
| Ease of Use | 8 |
| Safety | 8 |
| Availability | Sometimes out of stock |
| Price | Affordable |
| Cons | Needs direct application |
Wondercide Ant and Roach Aerosol Spray as pet safe roach killer (Scores out of 10)
The good thing I liked most about Eco Defense Pest Spray is that it is a pet-safe roach killer and can be applied directly to bedsheets, clothes, and even puppy beds without a stain.
I found this product good enough to give it space in my list of best pet-safe roach and bug killers. It killed roaches and effectively against their eggs, silverfish, and ants.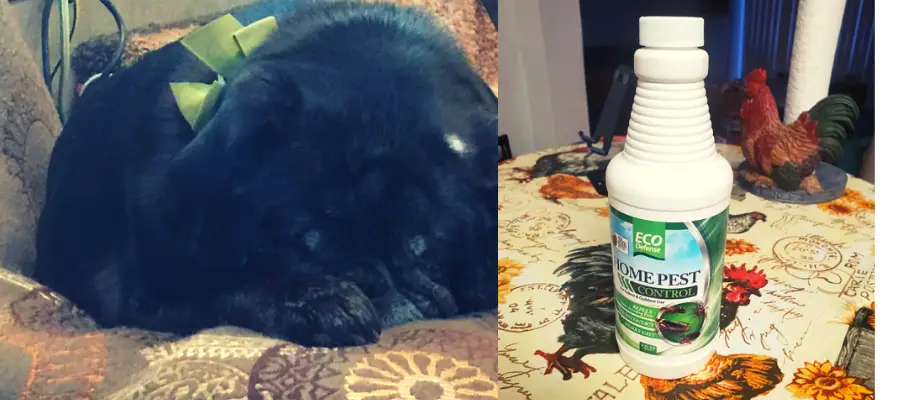 However, one problem with the product is that it needed to be applied directly to pests, or else it completely failed to give results. Therefore, I recommend this product only when you know where cockroaches are hiding and where their nest is.
| Factors | Eco Defense USDA Biobased Pest Control Spray |
| --- | --- |
| Effectiveness | 7 |
| Ease of Use | 6 |
| Safety | 9 |
| Availability | Easy Available |
| Price | Competitive |
| Cons | Product Quality Issues |
Wondercide Ant and Roach Aerosol Spray as pet safe roach killer (Scores out of 10)