Confusing all types of bugs for cockroaches is quite common. However, since we do not encounter them daily, and when we spot one of them, it's a good precautionary measure to ensure if it's an invader.
Ignoring a house cockroach can result in an infestation, so I will explain what a cockroach looks like in this article. I will also list all types of common bugs mistaken for roaches.
Following are a few types of bugs that look like cockroaches: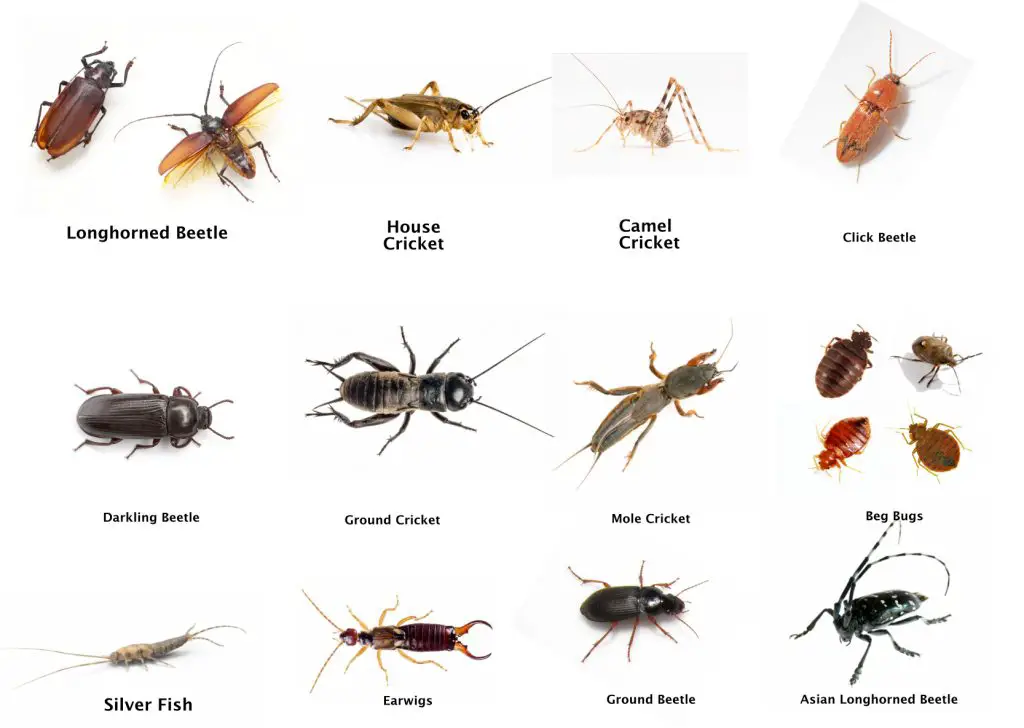 House Cricket, Camel Cricket, Field cricket, and Mole crickets are often confused for cockroaches.
Giant Water Bug is often confused with American and Oriental Cockroach.
Ground Beetle, Click Beetle, Longhorned Beetle, Darkling Beetle, and Palo Verde Beetle are also confused with cockroaches.
Bed Bugs are also confused with baby cockroaches.
Silverfish and Earwigs may also be confused with baby roaches.
Here are a few images of insects that look like cockroaches. More to follow along with the blog with details of each image.
Let me show you more pictures to understand the difference between these bugs, and you can quickly identify a cockroach.
Tired of cockroaches? Invest in only these products and follow the guide to eliminate roaches!

Use these products, and you will be roach free in less than a week.

1. Advion Cockroach Gel Bait (Review)
2. Gentrol IGR Point Source (Review)

Other Products to try:

1. Combat Roach Traps (Easy than gel baits)
2. Hot Shot Foggers (To kill in masses – 95%)
3. Pet Safe Killers (Uses Essential Oils)
4. Ortho Defence Outdoor Roach Killer (Prevent Roaches)
What do roaches look like?
To know which bug looks like a cockroach, you first need to know what a cockroach looks like.
Due to a wide variety of cockroaches, it can sometimes be tricky to tell how a cockroach looks exactly; here are some features that I found were common to all.
Well, to start, a cockroach has a flat oval-shaped body. The roaches have an oily outer surface with a small head under their pronotum.
Their sizes depend on their age and living environments. For instance, the American cockroach has a length of approx 2 inches, while the Oriental cockroach comes second with a size of about 1/4 inches long.
The biggest cockroach in the world is around 4.5 inches long.
Cockroaches have six spiny legs, all of which are uniform and help them move around quickly.
Besides, they also have wings attached to their backs; however, only a few can fly using these wings.
Below are images of a few types of cockroaches for reference.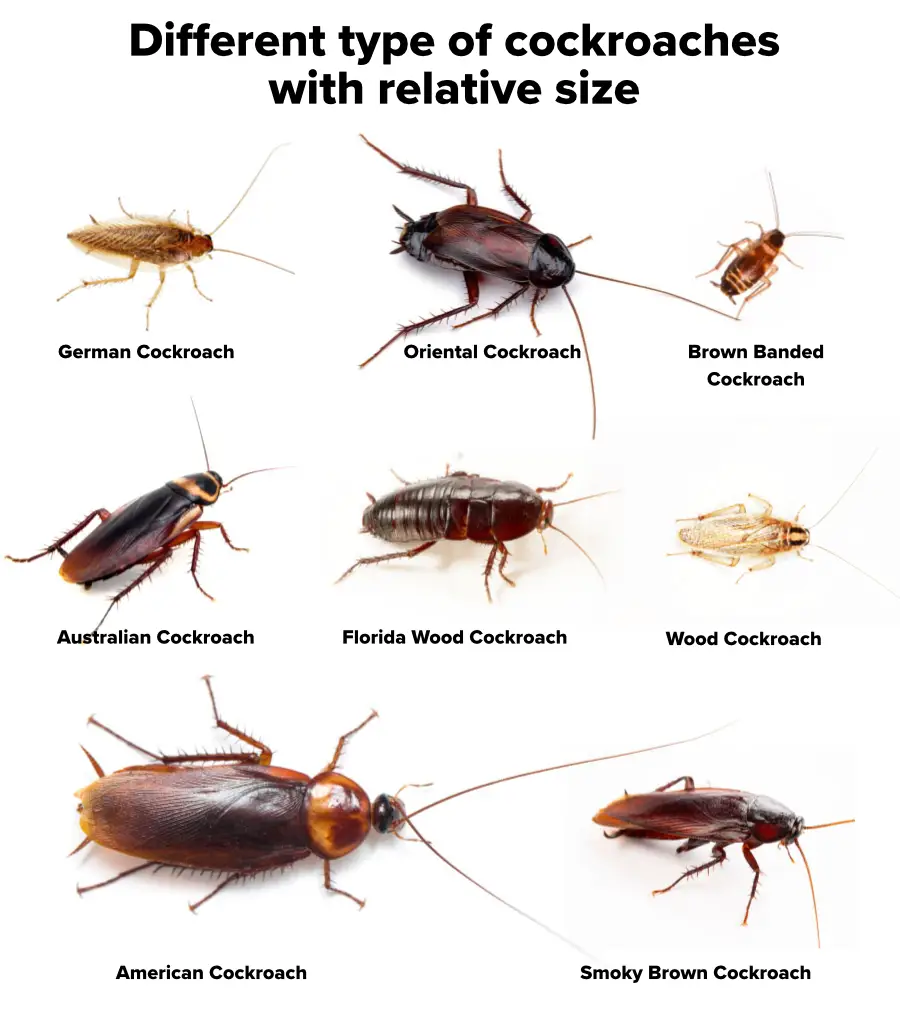 Types of Bugs That Look Like Cockroaches
Following are the type and photos of bugs that look like cockroaches.
1. Crickets:
House & Camel Crickets are often mistaken for small roaches like german roach, wood roach, and Asian roaches.
Field crickets can be confused with Oriental Roaches.
A Mole Cricket is sometimes hard to categorize as cricket and can be confused with an instar phase of Australian or American roach.
Pictures of Crickets that look like Roaches
I. House Crickets
House Crickets have similar color hues to German and Asian cockroaches. Therefore, you can easily mistake them for roaches, but in actuality, they are not cockroaches.
Below are a few images of house cricket and german roaches in comparison.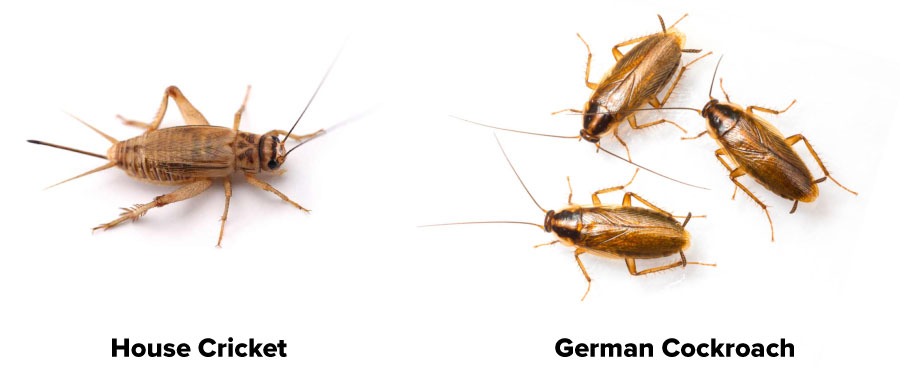 II. Camel Crickets
Camel crickets are similar to german roaches, except they have massive antennas that sometimes resemble a cockroach and get confusing.
Below are images of a camel cricket compared to a German Roach and a Wood Roach.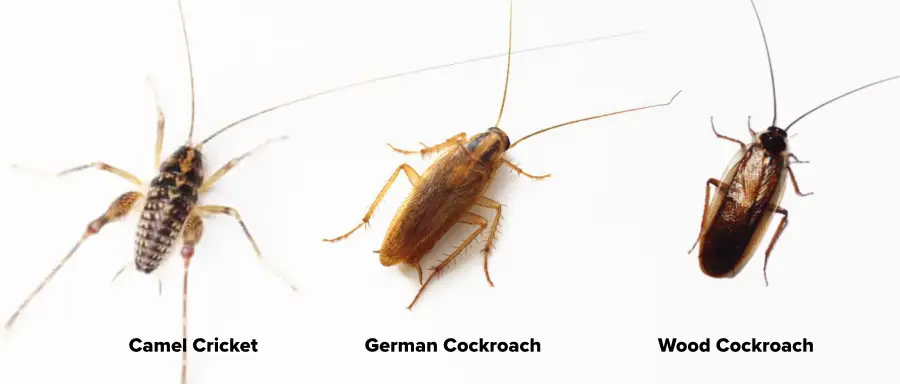 III. Field Crickets
Field crickets are dark brown or black and can grow around an inch. These crickets can resemble a baby or adult oriental cockroach.
Below are images of field crickets and oriental cockroaches for a comparison.


IV. Mole Crickets
Mole crickets may not look identical to a cockroach, but they are often confused for scorpions and identified as baby Australian or American roaches.
Below are images of mole cricket in comparison to a cockroach.


How to distinguish a cricket from a cockroach?
The significant difference between a cricket and a cockroach is how it moves from one place to another. A cockroach will always crawl from one spot to another, while a cricket will hop and jump from one spot to another.
Cricket do make noises, but they do at night and if it's pretty silent out there.
2. Giant Water Bugs
Giant water bugs are slightly larger than roaches, but they can be confused with roaches because, in some regions, the oriental cockroach is known as waterbug.
However, giant water bugs are a completely different kind of bug and can be easily distinguished from a cockroach. Here are 15 Differences between a water bug and a cockroach.
Check these images, and you will learn that it's effortless to distinguish a Giant Water bug, an oriental cockroach (aka waterbug), and normal cockroaches.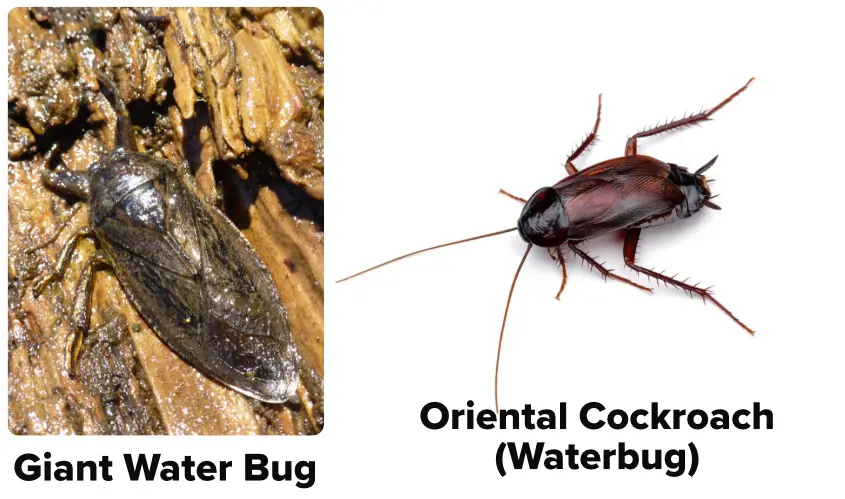 Giant water bugs are huge from normal cockroaches, and they can be easily distinguished from cockroaches.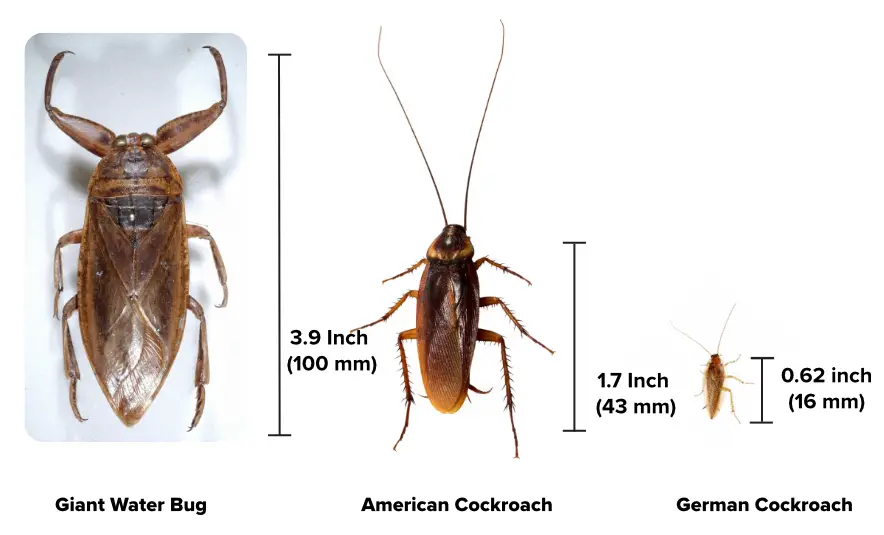 3. Beetles that look like cockroaches
Although beetles are quite different from cockroaches, you can still confuse them both if you don't encounter them regularly.
Therefore, I have written a complete article on cockroach vs. beetle, which can help you differentiate them.
However, these are a few types of beetles that look like roaches.
I. Ground Beetles
Ground beetles are pretty common, and you can often find them wandering in your house. However, if you are not aware of how it looks, you can confuse it for cockroaches.
For example, a ground beetle can be confused for Oriental cockroach, Smoky Brown cockroach, and Florida wood cockroach.
Here are images of ground beetle vs. different types of cockroaches.



II. Longhorned Beetle
As you can guess from its name, Longhorned beetles have a pair of long antennae that can be confused with a cockroach.
Fundamentally, they are a lot different than roaches but somehow resemble cockroaches to an untrained eye.
Here are images of a Longhorned beetle compared to a few species of cockroaches.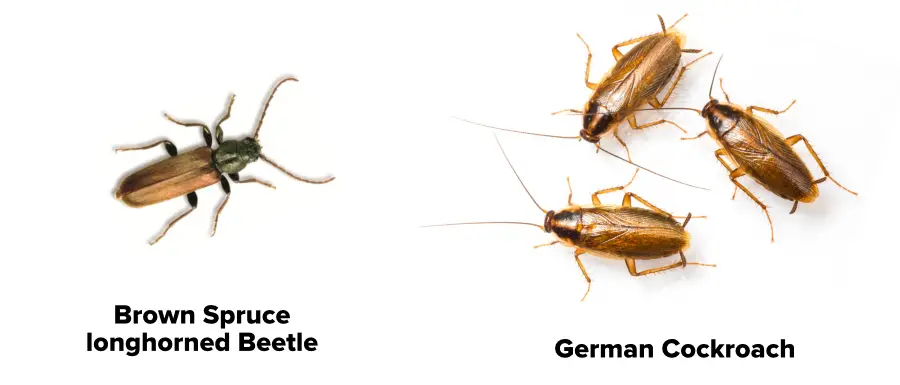 III. Click Beetles
Click beetles are unique in their shape from other beetles. They have elongated bodies, which can be easily confused with many species of cockroaches. They look like cockroaches but aren't actually.
Below are images of a few species of click beetles compared to some cockroach species.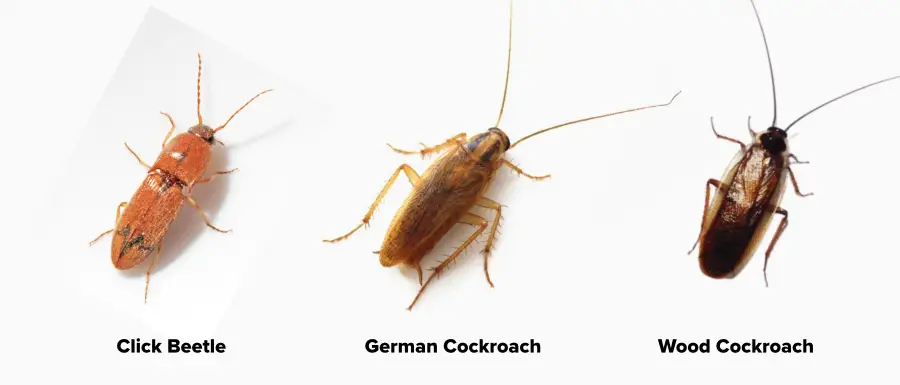 IV. Darkling Beetles
Darkling beetles are more like ground beetles, but they are a little brownish.
These beetles can be confused with smoky brown cockroaches, oriental cockroaches, and American baby roaches.
Below are images of Darkling beetles compared to a few species of cockroaches.


V. Palo Verde Beetles
Primarily found in Southwest America, Palo Verde beetles resemble the cockroaches solely because of their size and color.
These beetles have highly stiff exoskeletons, including a thick antenna and a hard shell as well.
In addition, their body color varies from darker brown to black shades. They are also better fliers than the cockroaches.
When it comes to their habitation, they are more likely to occupy outdoor places than living indoors.
Therefore, they will dwell in bushes and sometimes live in olive trees. More specifically, you will find these bugs laying eggs in the palo verde tree (thus the name).
Below is an image of Palo Verde beetles which resemble an American cockroach.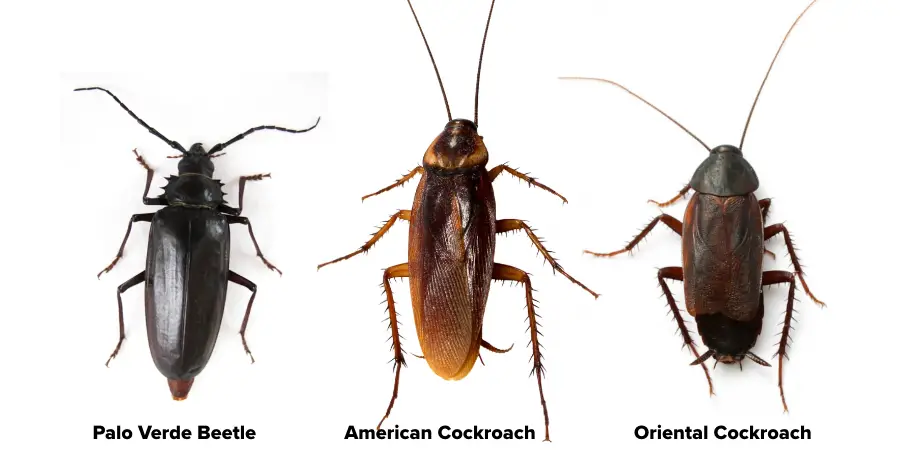 3. Bed Bugs can be confused with baby roaches
Bed bugs are almost recognized as baby roaches (specifically the German cockroaches) unless scrutinized.
Their reddish-brown tinted body is one of the many reasons that can trick you into thinking it is a cockroach.
Not only this but also because of their similar size, it gets tough to assume it's not a cockroach nymph.
Nevertheless, beg bugs have a round oval-shaped form, a shorter antenna, and are much smaller than baby roaches.
Below are images of bed bugs with baby roaches for comparison.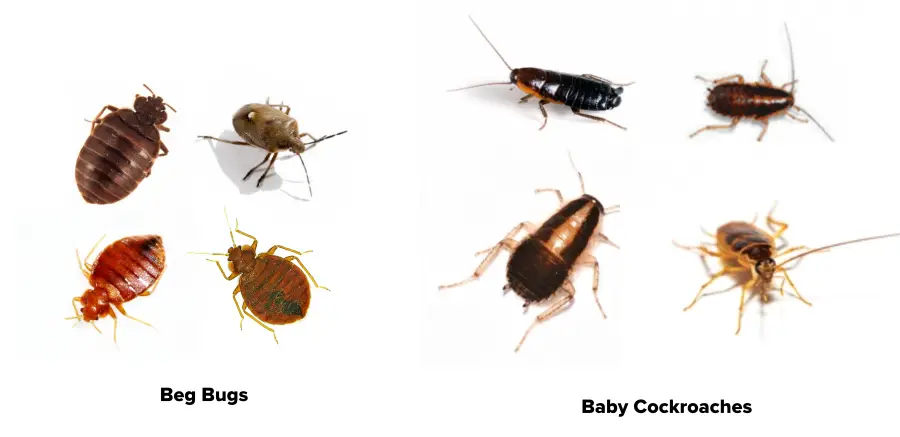 4. Silver Fish can also look like baby roaches
Silverfish is an invading pest and shall be avoided like roaches. It is a tiny insect and can be confused for baby roaches.
It's a little thinner in size, but it can be hard to distinguish for an untrained eye. Below is a picture of silverfish vs. baby cockroaches.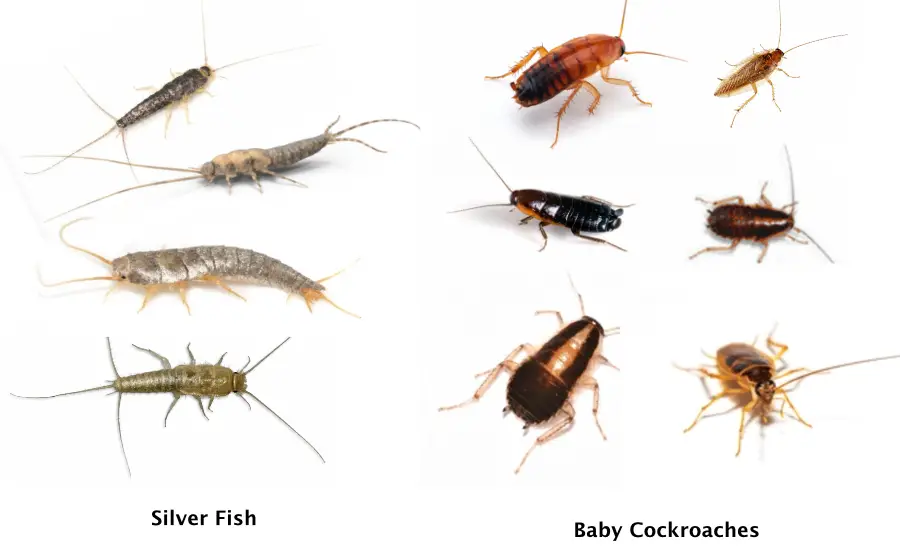 5. Earwigs can also be confused for baby roaches
Earwigs are commonly found in gardens, and they can mistakenly end up in your home. These are often mistaken for roaches.
Although earwigs are pretty long in shape, they can be mistaken for baby roaches. Here are images of earwigs compared to baby roaches, and you can see them being quite different.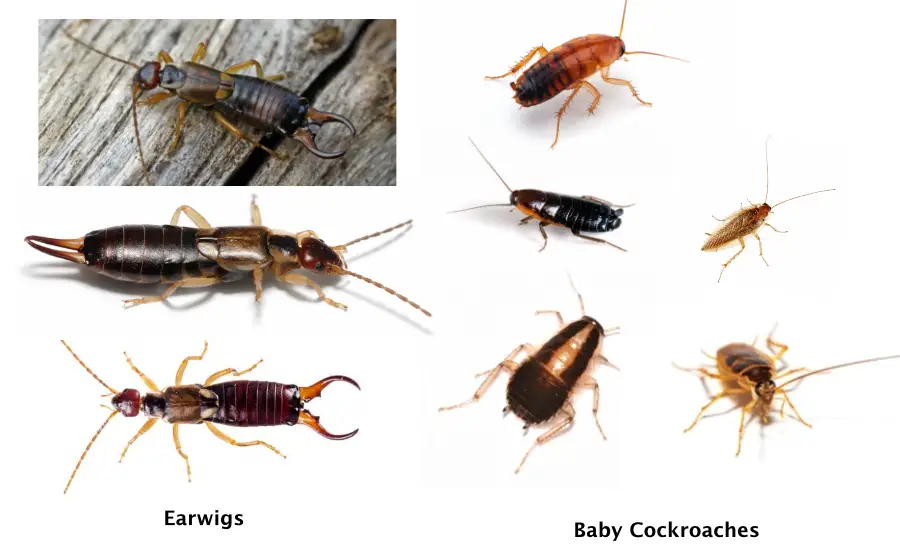 Additional Read: